Robert Burton Hubele: Original Blues/Jazz/Pop/Country & Now Children's Music
Click Show Playlist on the Player (Right) to see and play all my songs!
Want to know where Robert will be playing next, or when he will be releasing new music tracks and videos?  Click Contact and enter your name and email address in the email to receive Robert's updates on tours, schedules, events, and new music.
*****
Robert is in the Movie No Men Beyond This Point, performing as well as playing behind the credits. It is Now Playing on Netflix!!
*****
Robert Burton Hubele is proud to announce the release of his New CD 'The Sleepy Time King'
Recalling values of past generations, acclaimed Canadian songwriter Robert Burton Hubele weaves story and song to enthral children and grownups alike.
9 Original Songs & 2 "Little Jimmy' Stories
A Great Album for Grand-parents & Grand-kids!
Only $20.00 each
The Sleepy Time King On CD Baby
http://cdbaby.com/cd/robertburtonhubelewithbr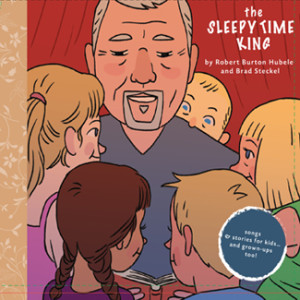 sleepytimeking.com
Live Performance Review
"The Social Committee in our building is always looking for new ways to bring together the people who live here, believing that the more we know each other, the more we will take care of each other and the special place where we live.  We invited Robert to present a night of music and stories, and he did not disappoint!  Robert is so engaging as he relates the back story of his songs…funny, touching, romantic and thoughtful.  His songs tell the story of his life, and his music is so connected to his words.  A master guitar player, he entertained the group with his stylings and talent.  The feedback from our residents has been so positive, we know that this forum will be something we include in future social functions.  Thank you so much, Robert, for your talent, your good humour and your music!"   (Panorama Place Social Committee)
Album Reviews
La Hora Del Blues – Barcelona Spain
Robert Burton Hubele's She Won't Talk To Me. Self Production 2016.
The song that gives title to the album was included in the film No Men Beyond This Point soundtrack. Robert Burton Hubele performs the song in the film. It's also played at the end behind the credits. The popularity of the soundtrack was the perfect reason to publish a new album in collaboration with producer, guitar player and friend Brad Steckel. Once again Robert Burton Hubele reveals himself as a good performer and an excellent story teller, with subjects that explore relationships, life and love, all framed by an intimate music based on blues which also includes some jazz, pop and world music. For those who are not familiar with this Canadian singer and guitar player, I mention that the honesty, good taste and the calm way Robert performs the ten original songs included in the album will drive listeners to a delicious and bucolic sound landscape. VERY GOOD.
La canción que da título a este disco pertenece a la banda sonora del filmNo Men Beyond This Point. Robert Burton Hubele interpreta este tema a lo largo de la película, que también ilustra los créditos al final de la misma. La popularidad de esta banda sonora le ha servido de excusa para editar este álbum en colaboración con el productor, guitarrista y amigo Brad Steckel. Nuevamente Robert Burton Hubele se revela como un buen intérprete y un excelente contador de historias, con temas que exploran las relaciones humanas, la vida y el amor, enmarcadas todas ellas en una música intimista basada en el blues pero que también incluye destellos de jazz, pop y world music. Para quienes no conozcan a este cantante y guitarrista canadiense, decir que la honestidad, las buenas maneras y la tranquilidad con que Robert interpreta los diez temas propios que se incluyen en el álbum, conducirán al oyente hacia un delicioso y bucólico paisaje sonoro. MUY BUENO.
This review will be on  La Hora del Blues home page for three months beginning Sept. 1st/16.
 La Hora del Blues Radio Show from Barcelona (Spain) and weekly Internet simulcast Fridays 16,00 and 21,00 pm and Saturdays at 2,00, 7,00 and 12,00 am. Listen to it by clicking into the radio or into the antenna at the bottom of the La Hora del Blues home page. Check your country time zone equivalence entering into the world globe in the home page. Also connect clicking on this link http://88.2.32.168:8000/listen.pls. Some podcasts at Radio Tube Live
Robert Burton Hubele & Brad Steckel
She Won't Talk To Me
Self-Produced
Often referred to as the Poet of the Blues, Hubele is a master storyteller, superb guitarist and his abilities as songwriter are unequalled.  In short, he is a wordsmith of the first order.  It gets no better than this.  Add his stellar guitar work and smooth as silk vocals, and you have a winner.  The fun does not stop there.  Add the talents of guitar virtuoso Brad Steckel.  Brad, a native of Easton, PA and a graduate of the Berklee College of Music, in Boston, has been a professional guitarist since the age of 14.  Early on he toured in support of some of the best known bands in the Rock world.  He has since relocated to Calgary, Alberta Canada, where he runs a state of the art recording studio.  His style compliments that of Hubele beautifully, making for an album that sounds rich, full and absolutely "eargasmic", to quote an old friend of mine.  Hubele is a well-rounded musician, extremely well versed in countless musical styles.  His masterful work with wording earned him the title of "Poet Of The Blues."  His blend of blues and a velvety-smooth jazz is relaxing, wrapping itself around the listener like that old afghan, crocheted by your Grandmother.  She Won't Talk To Me is his tenth CD release, the title tune featured in the movie "No Men Beyond This Point", in which Robert Burton Hubele is featured playing the song.  The CD features 11 songs penned by the master wordsmith, covering topics like life, love and death.  An incredibly diverse album, She Won't Talk To Me flows from style to style, effortlessly…taking the listener on a musical journey that covers blues in many forms, soulful ballads and even a touch of country.  This is the kind of album you put in the player, hit the repeat button and settle in with a nice bottle of your drink of choice…your beloved close at hand.  Call him a bluesman, a singer/songwriter, a balladeer, a songster or whatever you like.  This is an exceptional album from an artist who writes from wells of experience…one factor that give music power and an air of authenticity.  Any way you look at it, this is a great album you won't want to miss.
Bill Wilson
Robert Burton Hubele is a Canadian singer-songwriter, who has been active since 1972 as acoustic, electric and dobro blues, jazz and rock guitarist. He worked for years in the steel industry and wrote his first song at the age of twenty. "House Of The Rising Sun" by The Animals was Robert's first interest in music. Hubele hit will be interested in the music of the old blues men and later by Chuck Tracy (a seasoned musician and his roommate) in jazz. His descent from rural Alberta can also be heard in his music. Commencement 70s hit Hubele captivated by the slide dobro, after hearing Bonnie Raitt. Raitt learned to play slide guitar by Mississippi Fred McDowell. After his album Highway Of Dreams (2012) Hubele (again together with his buddy producer Brad Steckel) recently released the album She Won't Talk To Me. It is his tenth studio album with ten original songs and one hidden track.
She Won't Talk To Me is, besides the opener of the album, a song from the movie No Men Beyond This Point. It is, as most of the songs on the album, a song with a story. Here the story of the man who finds the right woman, who turns out to bein the company of the wrong man. "Life Is Funny" is a blues ballad with a positive message and "Sweet Talk" an uptempo blues song, which he was still in the prices. "Get (Down) To The Bottom," a hallucinatory raga / blues song, is biting the special duck in the blues. It's a song that no doubt remains as nahangen. "I Cried Your Name" is a country song, which refers to its country of origin and "Such A Little Thing", a song about giving and receiving, is a mid-tempo rocker swamp, which does well with this. With "Without You" the pace is revved up, and then unwinds in the country ballad "Baby Come Down". Hubele wrote, after a tour in Portugal, his impressions of the trip in the Latino rocker "Portugal". The heart rending song called "Oh Mama" is a ballad that Hubele wrote as a tribute to his mother. She lived through difficult circumstances, without ever complaining, and raised him and seven other children. The promised "hidden" track called "If You Love Christmas". It's a mid-tempo ballad, which sounds very promising and promises a great Christmas.
With She Won't Talk To Me Robert Burton Hubele again proves his versatility and musicianship. For lovers of easy blues/jazz where you can lie back and dig it, this is a Great album.
Eric Schuurmans
If you speak Dutch you can check out the RootsTime OnLine Magazine. I'm on the cover!
NOW on CD Baby and iTunes!
We had an intense but very enjoyable 5 days in the studio, where I was able to nail the vocals in one or two takes for most of the songs. Brad took care of the instrumentation and I provided the words & music & vocals. We make an awesome team!
Here's a Live version of She Won't Talk To Me from a concert at The Panorama Coffee House in May.
Enjoy!
Musician, storyteller, and blue collar icon of Canadian life. Robert Burton Hubele a writer and performer of original blues-jazz, and a storyteller, has a catalogue of experiences as varied as the styling's of his bluesy jazzy songs. Always a songwriter first, Hubele has created his tenth cd release, She Won't Talk To Me, a collection of dynamic travelling romances. As a songwriter Hubele writes about ordinary things that become extraordinary with just a little extra care.
Robert Hubele's earliest influence was the earthy beat and emotional impact of the blues as he played along with recordings of B.B. King, Howlin' Wolf, Willie Dixon, Muddy Waters, and Freddie and Albert King. His introduction to jazz, happened through Chuck Tracy, a veteran lounge musician. Listening to Chuck rehearse Robert got turned onto music from Tom Waits, Mose Allison and Fats Waller, Bing Crosby, Dean Martin, Benny Goodman, Cab Calloway and Louis Jordan. There is an inevitable country influence in Robert's music, which comes from growing up in the prairies with the songs of Hank Williams, Hank Snow, and Marty Robbins as a background to his life.
His current influences are his long time friend/producer/guitar player Brad Steckel and songwriters like John Hiatt and  Patty Griffin.
 I'm  featured in a new movie Directed by Mark Sawers entitled "No Men Beyond This Point", in which I perform  my song  She Won't Talk To Me. The Movie may be playing in your city or on DVD at your video retailer. Watch for it!
If you're anywhere in the world but Canada, you might hear me playing She Won't Talk To Me behind the trailer for the film 'No Men Beyond This Point' in the next few months!
The Vancouver Premier was at the Rio Theatre on Sept.26. We found the movie a hilarious romp! Really funny with a very thoughtful subtext. I quite enjoyed seeing myself in my small part, singing my song She Won't Talk To Me.
My good friends and excellent musicians Brad Steckel (Producer/guitars), Kristian Alexandrov (drums & percussion), & Brent Gubbles (acoustic bass) and I recorded a full-band version of my song She Won't Talk To Me at CBC Studios Nov. 16th for the end credit roll of No Men Beyond This Point. It turned out Great, as I knew it would using these guys!
I did a Tour of Portugal courtesy of my good friends Mirjam & Gerrit Klaassen of Tomar, Portugal. I had an absolutely wonderful and successful tour of this delightful country. A curious mix of very old and very new, the people were warm and accepting, and when not playing I spent many warm nights at dinner in various new friends houses getting to know the cuisine and local wines.
 "Make some room in your collection – here's a short list of records worth checking out."
"Robert Burton Hubele isn't flashy but his easy blues style and low-key approach will have you returning to his latest album, Highway Of Dreams."
Tom Harrison – Entertainment – The Province – March 25/13
********
"Our favorite troubador from Alberta…entertainment with a Huge capital E. Robert's CD offers the 'Classical' Hubele ingredients: strong, very strong songs, a deep roaring expressive voice, solid guitar playing, and lyrics that tell stories. It's pretty much an effort that leaves you breathless."
RootsTown Free E-zine Belgium
"Robert Burton Hubele is a kool kat whose sound can best be described as a Starbucks Chai Tea Latte with a side of coffee cake; its a great way to cure your hunger and thirst for something sweet and refreshing."
I Am Entertainment Magazine (one of Googles' top ten entertainment magazines on the web!)